Inhalation Sedation ("laughing gas")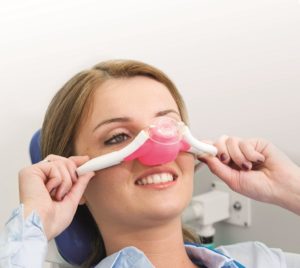 We understand that some people have a fear of the dentist, based either on previous bad experiences of because or how dentists are portrayed in pop culture. There several ways in which we can help reduce your anxiety. Establishing a positive relationship with your dentist is the first step to relieving anxiety, but nitrous oxide therapy, also known as inhalation sedation, can further help you relax.
A nasal hood is put over your nose and is connected to the digital flowmeter. The flowmeter controls the delivery from the gas tank. You breathe normally through your nose while the dentist completes your treatment. You will be conscious throughout the whole treatment and so you will be able to hear, see and respond to your dentist and know what is going on around you.
We offer nitrous oxide therapy at our sister practice Delacombe Family Dental.